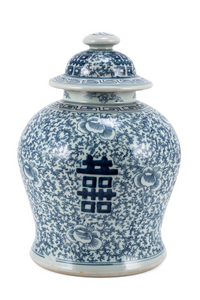 The enchanting pattern on this vase surrounds two Hsi calligraphy character, "Double Happiness" character represents marital bliss. The single character does not have meaning but when doubled, it means double happiness and has become a traditional wedding symbol. This traditional gift is still given to wish joy on newlywed couples in China.
8.5 W x 8.5 D x 12.5H

Each piece was handcrafted by skill and joy. Imperfection is part of the characters. Minor variation of color/shape/size is normal for hand-made product, it is not considered as manufacturing defect.