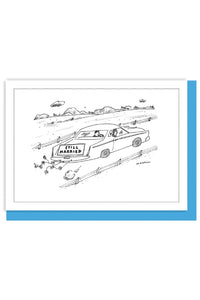 Caption on front reads: "Still Married."
With unmatched visual sophistication and wit, the cartoons of The New Yorker continue to entertain and enlighten. Whether whimsical, provocative, serene or laugh-out-loud funny they are always the talk of the town.
Cartoon by 

Michael Maslin.

5 x 7" card comes in a cello bag, blank inside. Recycled card and envelope.