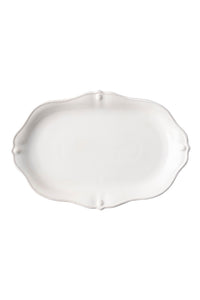 From our Berry & Thread Collection - Rimmed with a simple thread and adorned with a sprinkling of berries, this iconic dinnerware collection embraces the historic motifs of our Bohemian glassware. This 15" platter, with a subtly scalloped edge is perfect for serving a few, or a feast and goes seamlessly from oven to table.
Measurements: 16"L, 10"W, 1.25"H

Oven, Microwave, Dishwasher, and Freezer Safe

Made of Ceramic Stoneware
Made in Portugal
Please allow 3-5 shipping time on this item.